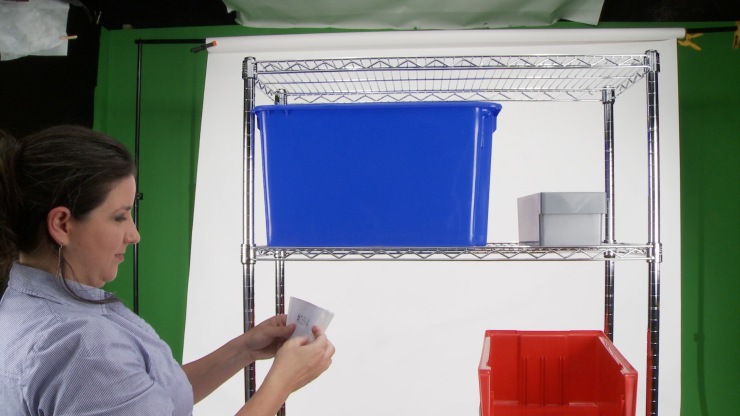 …to go with the fancy label holders we recently created promotional videos for! Well not so much fancy as efficient, economical and a necessity for organizing everything from shelving units to entire warehouses! Aigner Label Holder was in need of product videos to supply their vendors with to promote the various products they offer. These videos will live on the websites of national office supply giants such as Grainger, Uline and Fastenal.
Although simple in concept, the Aigner line of label holders is vast and serves a variety of needs, especially when it comes to warehouse and distribution. Our job at Ellenbogen Creative Media was to showcase the ease of use, proper use and possible uses of the top ten holders that Aigner manufactures; a project we had to interview and bid for. Marketing Manager for Aigner, Denise Ferro, headed the project, "We interviewed a few production companies to work on these videos and were completely impressed with the quality of work Ellenbogen presented. We made the right decision to go with them!" Ellenbogen Producer, Amanda Popovich, worked directly with Denise to make sure all of Aigner's needs were met, "There were some intricacies to the project that made this one interesting. Being Aigner is not a direct sale business, we had to create two versions of each video – one for their own website and trade show marketing complete with Aigner branding, and one for suppliers of the Aigner products eliminating all Aigner branding."
Aigner utilized our green screen studio at Seven21 Media Center to capture all of the video. We covered the green with white seamless to create a simple, crisp background that would show off the product rather than the environment. Aigner brought in racks and shelving units for the displays and Denise even stepped in as hand model during the shoot!
As for post production, Ellenbogen editor, Andy Pidanick, says, "This turned out to be one of my favorite edits. The challenge of creating interesting video from a simple product line was fun! Denise was great to work with, she was open to our creativity and offered some really good input!"
Ellenbogen Creative Media CEO, Jeremy Ellenbogen, speaks to how effective these videos will be, "Having individual product videos is a smart move on Aigner's part. There are so many uses from websites and tradeshows to social media and email. This was a smart investment on behalf of Aigner."
Aigner Label Holder, out of Orange County, New York, provides a complete line of labeling needs to companies spanning the globe. Ellenbogen Creative Media is proud to have partnered with them for this project!
Aigner Labels Reel from Ellenbogen Creative Media on Vimeo.