"Don't Clean Your Brush In Your Wine Glass!"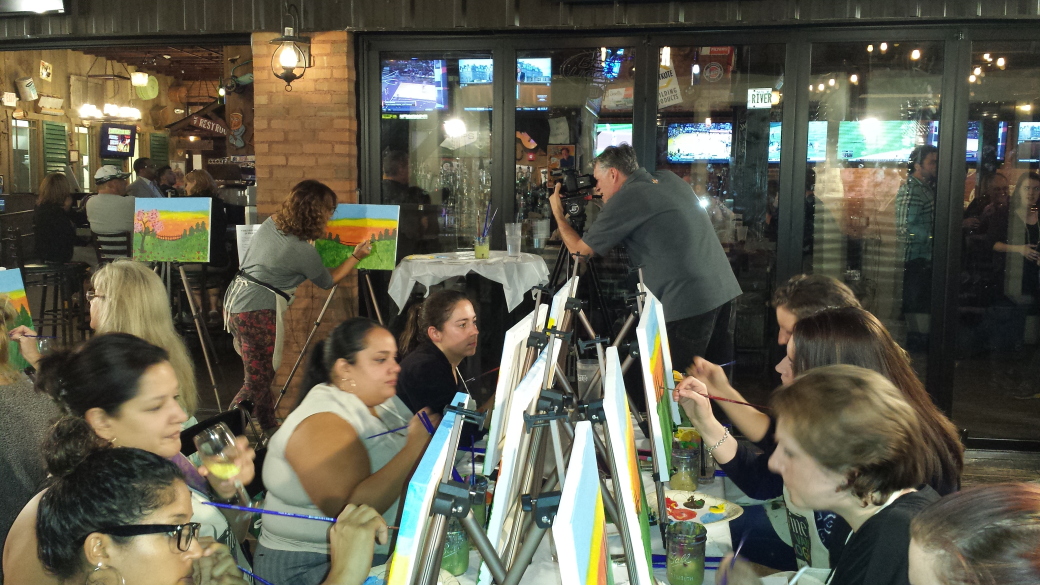 It was pretty evident by the giggles and random outbursts that people were having fun at the Vine Van Gogh 'sip and paint' parties held around the Hudson Valley! Not only are inner artists reborn and friendships strengthened with lasting memories…but a new local business is growing and we were brought on to help!
Vine Van Gogh hired Ellenbogen Creative Media to produce a video for their Indiegogo crowd funding page seeking donations for franchise expansion. The video needed to explain what the company does, the method of it's success, how they hope to grow and how donations can help them achieve this goal! Vine Van Gogh realized video was the best way to get that message out and they wanted something spectacular! Taking the most economical route in the beginning, Vine Van Gogh hired a different production company to save a few bucks…but quickly realized, you get what you pay for! Owners Tim and Melissa Palladino were not impressed with the video presented and immediately turned to Ellenbogen Creative Media to get it done right! Tim said he knew from the start that this was going to be a better product as soon as he saw the attention to detail and level of equipment used on set. "Ellenbogen is the real deal. It's not one guy with a camcorder. They are a skilled crew with all the right gear. Yes, you pay a little more, but what you get in return is well worth it! They know what they're doing and do it really, really well! From the creativity in shots and team approach on set right down to the editing, we knew we were in good hands. We absolutely love the video…from the professional quality to the informational content…it's everything we asked for! It's great!"
Ellenbogen Creative Media CEO, Jeremy Ellenbogen, was glad to take on the project. "We did everything we could to make sure we covered the sip and paint events, got enthusiastic testimonials and conducted a good interview with Tim and Melissa. Our crew really captured what Vine Van Gogh is. When you invest in your business it shows…and what's more important than your promotional material?! You have to make sure it's a good representation." Tim and Melissa are so happy with the Vine Van Gogh video that they have plans to work with Ellenbogen Creative Media to produce even more! As the company grows they see the need for having training videos, private party promotional videos even television ads!
Our crew covered four sip and paint events around the Valley gathering footage of budding artists hard at work …and 'not-so-budding' artists enjoying the spirits more than the canvas! Director of client services for Ellenbogen, Andrea Chafouleas, spent time on set, "We want to thank everyone that participated at the events and shared their artwork with us…you weren't the only ones laughing! And we say that with the utmost respect. There was one person that decided to draw a monkey in the country landscape scene…and another that drew very questionable farm silos. Seeing you have fun, made us have fun!"
Be sure to visit Vine Van Gogh's Indiegogo crowd funding page and support the expansion of this great budding business!
Vine Van Gogh – Crowd-funding Video from Ellenbogen Creative Media on Vimeo.