Ellenbogen Group Shoots and Broadcasts the American Cancer Society Cancer Action Network's Community Talks Cancer Legislative Breakfast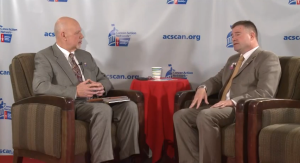 On April 25th the Ellenbogen Group was at the Garden Plaza Hotel in Kingston, New York to shoot and broadcast the American Cancer Society Cancer Action Network's (ACSCAN) Community Talks Cancer Legislative Breakfast talk show. The topic of this year's talk show was new developments taking place in New York in quality of life and palliative care.
The Ellenbogen Group sent a crew of two camera operators, an audio engineer, director, tape operator, teleprompter operator and a producer to shoot and webcast the talk show. The talk show was webcasted live over the internet as well as recorded for the Time Warner on demand channel.
The talk show was hosted by radio personality Ward Todd and featured experts and elected officials talking about all facets of palliative care. After Ulster County Executive Michael Hein made his opening remarks a range of topics relating to palliative care were discussed. United States Congressman Chris Gibson updated the audience on the palliative care bill HR 1339 as it makes its way through congress. Dr. Joel Mandelbaum shared examples of palliative care, while New York State Senators Terry Gipson and Cecilia Tkaczyk spoke about New York's role in pain and palliative care. New York State Assemblymen Peter Lopez and Kevin Cahill explained how New York State is working towards a unified system of pain and palliative care. The talk show wrapped up with ACSCAN Legislative Ambassadors Sandi Cassese and Neil Eisenberg explaining how the audience both in the room and online could get involved and support ACSCAN.
During the production of the talk show there were the usual obstacles to overcome but there was also a challenge that was unique to this shoot. "The whole crew was in the same room as the talent and audience", director Brian Dyke explains, "Usually I'm directing in a production truck or a control room and I can be as loud as I want but in this case I learned early on that I had to whisper my directing cues." Being flexible in any production situation is very important as President and CEO Jeremy Ellenbogen points out, "Being able to produce a show in any environment is one of our specialties. With our ATEM switcher, the Livestream broadcaster and an internet connection we can webcast a show from any location a client needs, indoors, outdoors, anywhere."
In the end the talk show was a great success. ACSCAN was able to get its' message out about palliative care to the live audience and the audience online. The broadcast was also archived on the Ellenbogen Creative Media page at www.livestream.com and can be watched anytime.
The Ellenbogen Group was honored to be part of such a great event and looks forward to the opportunity to be part of it again next year.