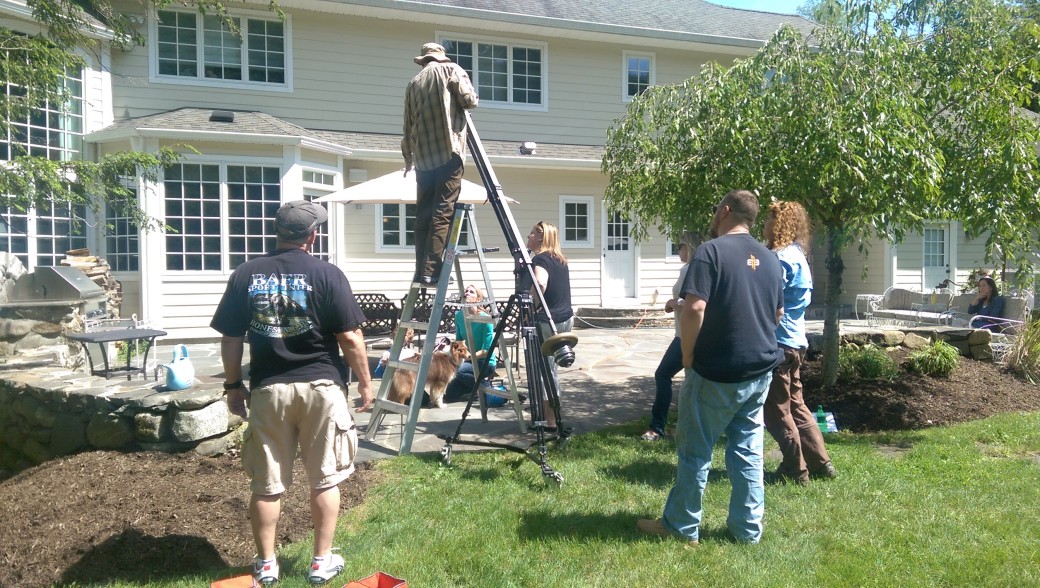 While filming a commercial for the powerful and efficient MetroVac Air Force Commander, a lightweight and portable pet hair dryer, Ellenbogen Creative Media got to work with some new gear and some very special talent: a slow motion camera and our new furry pawed friend, Prima! Let's also not forget the very talented human actors on set that day as well, Cathy and Dylan!
Working with any type of animal can be a real hassle, but with the help of expert pet trainers, Ron Watson and Apryl Lea of Pawsitive Vybe, Prima was everything but a prima donna. Prima was on point and had high spirits throughout the entire shoot. She played in the sprinkler, rolled in the mud and especially enjoying being pampered with the Air Force Commander!
Focus Media has been handling the advertising and public relations needs of MetroVac for years and brought Ellenbogen Creative Media into the mix to work on their video productions. Director of Marketing Services for Focus Media, Bridget Clark, directed the shoot. "This is one of many videos we've collaborated on and it may well be one of my favorites! We had it all…dogs, kids, hired talent, specialty gear and even menacing clouds! We wanted to highlight the power behind this product and the only way possible is to show it in action. Bring on the dog!"
Metrovac has an incredible line of commercial vacuums and dryers available, and the Metrovac Air Force Commander, available in several new colors, is a stand out amongst pet owners! These dryers work so fast, the hardest part of the shoot was keeping Prima wet enough for continuity! No matter where the scenes moved, the dryer was easy to relocate due to its small size and its surprisingly low weight. Even six year old Dylan had fun with it making sure to test each speed level on his own hair!
Knowing the Air Force Commander's potential, we knew ordinary camera shots wouldn't be enough. We brought in the big guns with the Black Magic URSA in order to capture amazing slow motion footage. Which Director of photography, Zoltan David, loves the impact of slow motion in video, "I loved working with the URSA. It really makes a difference to the end product when you can incorporate images that are different or unexpected. Slow motion shots of a dog shaking and being dried off …where water is slowly spraying off of them looks phenomenal!"
What also looked great were the jib arm shots from above the action. Ellenbogen CEO, Jeremy Ellenbogen, always pushes for the extra-ordinary, "If we have access to the tools…we should use them. Create shots that are appealing to the eye and show the product in action. Anybody can point a camera and shoot…it's what you do with the camera that makes the difference. It's an art…and we have very experienced artists at Ellenbogen Creative!"
Just your typical Wednesday at Ellenbogen Creative Media!